All New Italian Tuesday Buffet @ Patummat Restaurant
All New Italian Tuesday Buffet @ Patummat Restaurant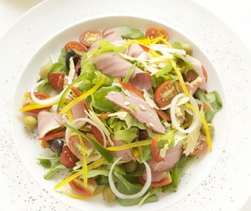 Patummat Restaurant is pleased to announce that its fabulous dinner buffet smorgasbord on Tuesday nights just got even better with the addition of a regular Italian theme.
Besides our already impressive and beloved selection of international soups, salads, meats and seafood, the buffet will now also feature imported Italian cold cuts and salamis; salmon carpaccio; oven-baked veal stuffed with ham and caciocavallo cheese; eggplant parmigiana; salmon lasagne; pan-fried monk fish Sicilian-style; selection of Italian cheeses, homemade Italian desserts and more!
To complement the food, we're pleased to offer glasses of Baht 199++ Merlot and Pinot Grigio, Pierlant Brut Sparkling Wine for Baht 150++
a glass and free-flow Evian for Baht 80++.
Available every Tuesday from 18:00–22:30 at the unbelievable low price of Bht 1,150 nett.
To make a reservation, please call 02–2470–123, ext. 1810.
< Back