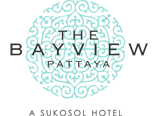 310/2 Beach Road, Pattaya City Chonburi, 20150, Thailand Bangkok Sales Office: +66 2 247 0123 Tel. +66 38 423 877 or +66 38 710 513 Fax. +66 38 423 879
thebayviewpattaya.com
Towering majestically above Pattaya Bay, The Bayview boasts sweeping ocean and city views and is a secluded oasis nestled amid the vibrant hustle and bustle of Beach Road. The tranquillity and elegance of a first-class Thai beachside hotel are reflected in our beautifully designed and contemporary rooms and public areas.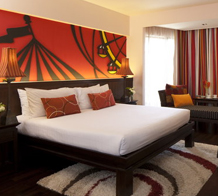 Rooms

Our luxury Pattaya accommodation is designed to provide an atmosphere of privacy and ultimate relaxation; each of our six room types has a fabulous view overlooking the garden, pool or ocean. All rooms come with a range of first-class amenities and feature such unique multi-cultural design themes as Moroccan, Andaman, Carnival, Safari and Thai Tribal!



---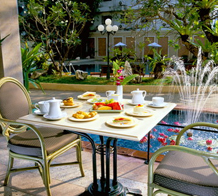 Wine & Dine
Enjoy a sumptuous array of cuisine from around the world at The Bayview's signature restaurant, Garden Terrace Café. In addition, with four attractive bars and elegant lounges to choose from, why not pause for a refreshing snack or cocktail. Mingling and relaxing with family, friends and new acquaintances from around the world is a breeze at The Bayview!
---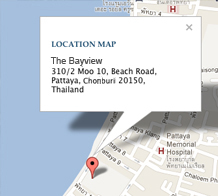 Location
The central downtown location of our hotel lets you easily explore the wonders of this lively seaside city that never sleeps, as well as the many area sporting attractions, theme parks, restaurants/bars, entertainment centres and shops. Relax by the serene pool or step only metres from our front door to find yourself in the thick of all the action...
---
Things You'll Love
RELAXATION
Enjoy a sunset cocktail, meet a new friend or play a game of snooker in our Exotica Bar
STIMULATION
We have pools, a spa, fitness centre and tennis courts to keep you fit and occupied
LOCATION
The blue sea and white sand of Pattaya Beach are only steps away from our front door…
---
Local Scene
FLOATING MARKET
Explore 110 boutique-style shops, cultural performances and local cuisine from the four corners of Thailand.
JOMTIEN BEACH
With water sports, fresh seafood, hip bars, fine restaurants and entertainment options galore.
CENTRAL FESTIVAL
The largest beachfront shopping complex in SE.Asia with over 300 shops, eateries and entertainment outlets
Talk with us
We've Got

International restaurant
Fitness centre
Two pools with Jacuzzi
Meeting room for up to 120 persons
Cosmopolitan bar
Private cooking school
Massage pavilion
Travel Counter

Quick links