310/3 Beach Road, Pattaya, Chonburi 20150, Thailand Tel. +66 38 410 577 Fax. +66 38 410 733
wavepattaya.com
Wave is where classic Miami style meets fresh Thai modernity in downtown Pattaya. Our luxury boutique hotel is a haven for all that's hip, cool and alluring about America's iconic beach hot spot. We combine edgy décor, first-class service and facilities with a great location into a unique offering to give you something fresh and new in the (other) city that never sleeps…
Rooms

We have 21 spectacular and spacious rooms, all with a world-class vista overlooking majestic Pattaya Bay. All rooms have been painstakingly designed to provide guests with the utmost in modern comfort and convenience, along with stunning and fun design. All rooms come with an extra large king-size bed for and bathtubs.
---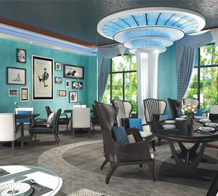 Wine & Dine
Cadillac Café provides guests with premium meat and seafood grill items and is the most sought-after dining hotspot in town. On our rooftop is the easy-breezy Cabana Bar, where guests can chill with artisanal cocktails, moreish bites, lounge music and stunning views. At the pool area our Blu Bar provides light snacks and tasty tipples…
---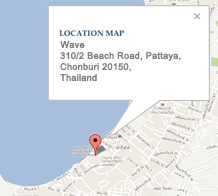 Location
We're conveniently located in the absolute middle of Pattaya's thriving dining, shopping and entertainment scene on bustling Beach Road. We face the beach and are well-placed to provide you with the best in both urban living and beachside relaxing. By staying with us you are guaranteed to love Thailand's best beach resort city.
---
Things You'll Love
DREAMY DECOR
We bring the fun, excitement, glamour and spirit of Miami to the shores of Pattaya Bay!
HAPPY HOUR

With "half off" standard drinks at the rooftop Cabana Bar and pool-side Blu Bar daily
ROOM WITH A VIEW
All our rooms are sea-facing, so every guest can gaze upon majestic Pattaya Bay at leisure…
---
Local Scene
CENTRAL FESTIVAL
The largest beachfront shopping complex in SE.Asia with over 300 shops, eateries and entertainment outlets
TIFFANY'S SHOW
Experience the world's most famous transvestite cabaret show with music and dance galore
NOONG NOOCH
Explore 500 acres of gardens, a cultural show, elephant park, car museum, fish pond, aviary and zoo
Talk with us
We've Got

Free Wi-Fi throughout
BBQ lava stone restaurant
Hip rooftop bar
Dedicated Guest Services team
Breezy pool and deck bar
Superlative in-room amenities
State-of-the-art IPTV system

Quick links