Sukosol Blog
Mango and Sticky Rice
by Social Media Manager (26 Jan 2013)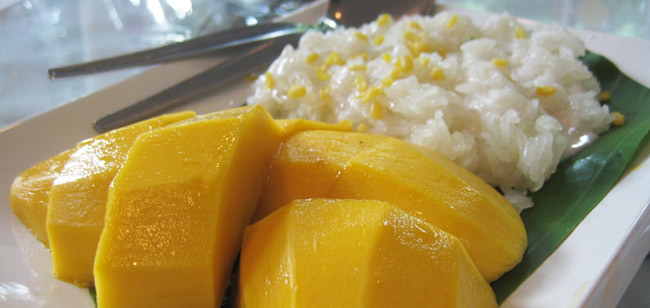 Thailand's delicious mango season is now here! The mango, known as "mamuang" in Thai, is one of the nation's premier tropical fruits. When the country's annual heat reaches its peak in April and May the mangoes ripen and become abundant from coast-to-coast. If visiting the Land of Smiles at this time you shouldn't hesitate to enjoy this magnificent fruit because the season only last two months and then it's another ten months of waiting... If you're not fortunate enough to be staying at one of our hotels to sample the dish, here is a simple-to-follow recipe you can use to make the treat at home.
Cooking Directions
Soak the sticky rice for at least an hour before steaming.
Steam for 20 minutes on medium-high in a sticky rice steamer.
Rice Sauce: add ½ cup of coconut milk to a saucepan along with 1 1/3 tablespoons sugar and 1/4 teaspoon salt, stir over low heat until dissolved.
Topping Sauce: add 1/4 cup coconut milk, 1 ½ teaspoons sugar and 1/8 teaspoon salt to a saucepan and stir over low heat until dissolved. Mix in ½ teaspoon tapioca starch and stir until thickened, remove from heat.
Spread rice out in a shallow bowl and cover with 1/2 the rice sauce. Stir well and keep adding more until you reach saturation point (around 75% of the sauce). Stir well and cover with a towel. Let the rice absorb the coconut milk for 10-15 minutes.
Slice ripe mango and arrange on a plate. Spoon on an equal amount of sticky rice next to it, and top with a few spoons of the topping sauce. Garnish with toasted sesame seeds.
Enjoy!
Note
The best mango to eat with this dish is called 'naam dok maai' (flower nectar mango), which is available in South-East Asia. In many Asian groceries in the West you can find a similar yellow-skinned mango which is skinny and pointy. This works a lot better than the round, red/orange mango from South America.
Make sure you use sticky rice and not regular Thai rice in this dish. Sticky rice is sometimes called glutinous rice. The grains are whiter and fatter than regular rice.
Thank you.